LMHC Pearl Information Sheets
The following world-renowned gemmological laboratories (listed in alphabetical order) are represented within the LMHC.
CGL Laboratory (Japan)
CISGEM Laboratory (Italy)
DSEF German Gem Lab (Germany)
GIA Laboratory (USA)
GIT – The Gem and Jewelry Institute of Thailand (Thailand)
Gübelin Gem Lab Ltd (Switzerland)
Swiss Gemmological Institute – SSEF (Switzerland)
The LMHC meets regularly to discuss and cooperate on various gemological issues and to harmonise the language used in their gemmological reports.
The Information Sheets (IS) issued by the LMHC, and linked below, help users to properly comprehend the language used in gemmological reports issued by LMHC members. So far 13 Information Sheets (IS) have been issued by the LMHC regarding colored stones, and one on pearls.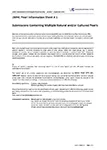 LMHC Pearl Information Sheet #1: "Submissions Containing Multiple Natural and/or Cultured Pearls"
(Version 1. September 25th 2010) Members of the Laboratory Manual Harmonisation Committee (LMHC) and the LMHC Technical Pearl Commission (TPC) have standardised their examination policies and the report wording that they use to describe natural and cultured pearls when strung in strands, necklaces or bunches, set as multiples in jewellery or submitted loose in multiples in variously sized 'lots'.